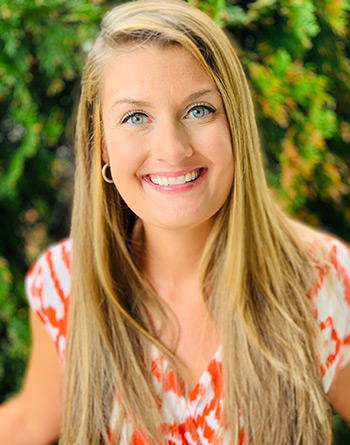 Mendi Evans
Sales and Training
Virginia
Mendi Evans is part of Car-Part.com's Training team, specializing in the Checkmate product suite, Web Services, Car Part Pro, and Integrated Car Part Pro. Mendi has been with Car-Part.com for over 6 years, working with both the Training and Sales teams. She trains auto recyclers and repairers on Car-Part.com's software solutions.
Prior to Car-Part.com, Mendi worked in the golf business, planning weddings, membership events, and golf outings in Coastal Georgia and Coastal Virginia. She has a bachelor's degree in Psychology with a minor in Business Administration from Mary Baldwin University in Staunton, VA.
---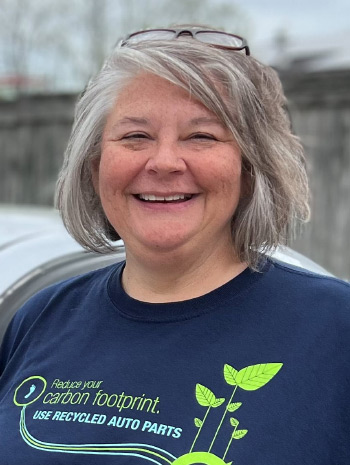 Theresa Colbert
Web Sales
Missouri
Theresa Colbert is an on-the-ground representative for Car-Part.com. She works with dismantling yards to help them decide which products in the Car-Part suite best fit their needs and shows them how they can optimize their part listings for online sales through eBay, Brokering, and Trading Partners. She does this by emphasizing the importance of accurate part grading and high-quality part images. She also stresses the huge value that cores have in today's market.
Theresa has been with Car-Part.com for over 9 years. Previously, she worked at Nu-Parts Automotive Products for 10 years. Prior to Nu-Parts, she was the manager at Winter Auto Japanese Engines in Glendale, Arizona, and at AAA Economy Auto Parts in Phoenix, Arizona. With over 25 years of industry experience, she has seen the auto recycling world from almost every point of view. Theresa is on the Pennsylvania association event board, the Colorado association event board, and the ARA Scholarship Foundation fundraising committee. She also speaks at industry trade shows and writes monthly articles in The Recyclers Power Source, the Toolbox, and several state association publications.
---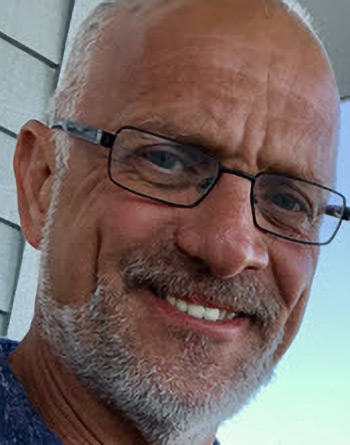 Greg White
Conversion Trainer
North Carolina
Greg White works as a training specialist, training recyclers on Car-Part's products and how to use the flexibility of the software to fit and improve business processes.
Greg has a BA in Computer Science from East Carolina University that gives him expertise in the technical side of software, while his 34 years of experience in the recycling industry provide valuable insight to a broad range of practical areas. He has hands-on experience with full-service parts, self-service parts, and scrap metal recycling, ferrous and non-ferrous metals. In his time as a General Manager & Sales Representative at 67 Motors, he was a daily user of Car-Part's software, served as a beta tester, and attended Car-Part's Recycler Executive Roundtables. He managed the day-to-day operations, including computer hardware & software installation/maintenance, accounts receivable/payable, as well as all of the paperwork and documentation. Greg has worked with and managed employees in every aspect of the recycling facility; from being a yard manager and buyer, to crushing and sales.
---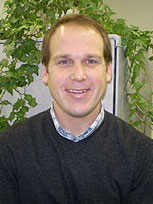 Jason Olson
Sales and Training
Virginia
Jason has been with Car-Part for over 10 years, and has been in the auto recycling business for over 16 years. With Car-Part, Jason is involved with the sales and customer training aspects of the company. He visits current and prospective Car-Part and Checkmate customers to train them on products and features. He also facilitates Executive Roundtable User Groups all across the country for Car-Part.com. In this position, Jason has visited thousands of salvage yards in North America to learn about their processes, and to educate them about how Car-Part's products can fit into their sales and production procedures while improving their overall efficiency and profitability. Prior to working for Car-Part, Jason managed sales teams.
---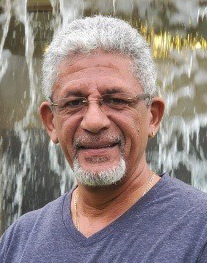 Rick Rivera
Checkmate Sales
Florida
Rick Rivera began his career in the auto industry in 1989 working as a customer service rep and technician for AutoInfo. The expertise he gained in computer servicing and repair soon drew him into research and development of software platforms as AutoInfo switched from mainframe to PC based software.
After spending time doing satellite installations for Orion, Rick spent several years at Minton Auto Parts, learning the auto salvage business. Over time, the demand for his expertise in computer services and repair grew, so he began his own business in 1997 called Computer Maintenance Service.
Several years later, Rick joined Car-Part.com as a Checkmate sales rep, working with auto recyclers to find the best products to meet their needs. Today, he continues in Checkmate sales, while still operating his business, where he works on computer repairs, technical issues, training, and networking for auto recyclers and many others.
---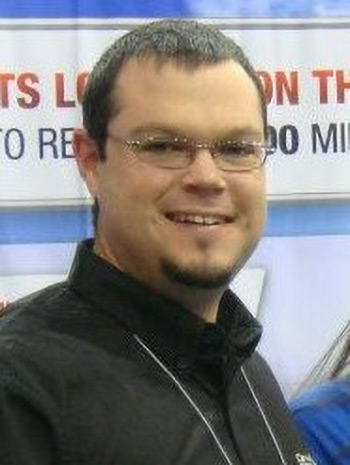 Slade Goodwin
Web Sales
Florida
Slade Goodwin has been working in the auto industry for more than 10 years. He started off working as a regional salesperson for a parts vendor where he traveled to 43 states in 3 years. The last eight years he has spent at Car-Part.com as a salesperson for Web Services where he covers the Southeast, California, Oregon, and Washington.
Slade earned his Bachelor of Science degree in business administration with a major in marketing from Harding University in Searcy, Arkansas.
---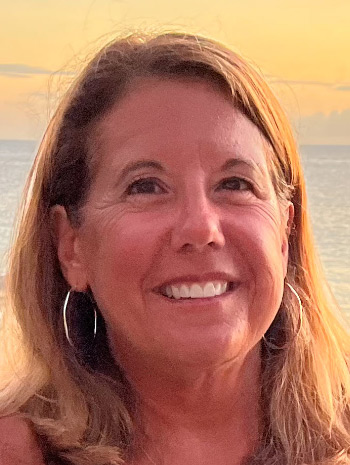 Becky Adkison
Training Manager
South Carolina
Prior to working at Car-Part.com, Becky Adkison worked as a special education teacher. She started at Car-Part in 2004 and worked as a Recycler Sales Rep until 2011. After that she spent time as a co-manager at two different salvage yards. During that time, Becky served as the Vice President of the Carolina Automotive Recyclers Association until she eventually spent two years as the association's President.
Several years ago, Becky returned to Car-Part.com, working on Integrated Car Part Pro deployments. Since then she has transitioned to the role of Training Manager where her unique combination of recycling industry knowledge and Car-Part experience has been instrumental in her work with the Car-Part Trainers to improve customer training programs and conversion processes.
---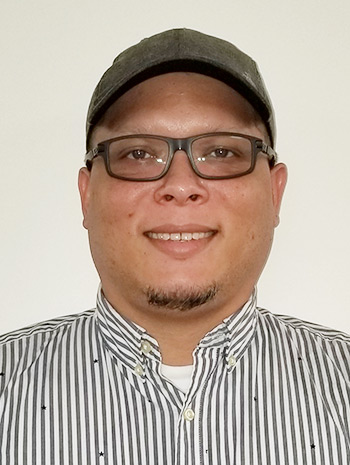 Pedro Roman Santos
Checkmate Support
Florida
Pedro Roman Santos has been working with Car-Part's support team for nearly a year. He works primarily on new installs for Checkmate, Bidmate, Partmate, and Photomate, where his extensive experience in technical support is invaluable.
Prior to Car-Part.com, Pedro worked with Square Trade Inc. where he was a Claims Technical Expert, troubleshooting customer issues with their TV services. Previously, he was with Bright House Networks where he was responsible for troubleshooting issues with internet connections, printers, and other equipment.
Pedro has his A++ Certification as well as his CompTIA Certification. He also earned his degree in Information Technology from Universidad Interamericana de Puerto Rico.
---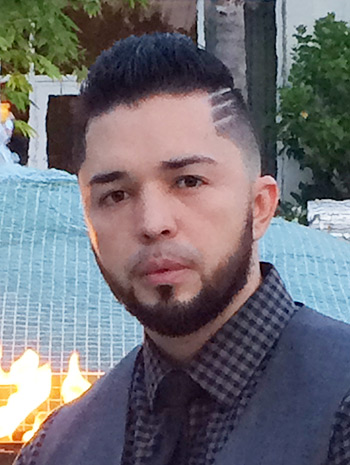 Pablo Yepes
Checkmate Support
Florida
Pablo Yepes is a Checkmate Support Tech that has been with Car-Part.com for over three years. In addition to installing and configuring Checkmate, Bidmate, Partmate, and Photomate, he also provides support for the software as well as printers, modems, backup drives, and third-party software.
Before coming to Car-Part, Pablo worked as an IT Service Desk Analyst for Robert Half Technology. He also worked for Bright House Networks, first as a Product Specialist, providing tier 2 and tier 3 support for digital phone customers, and then as a Business Support Specialist Technician.
Pablo has completed a wide variety of training courses in networking and security and has his CompTIA A+ certification.